Dr. Westernoff
Dr. Westernoff is a board certified oral and maxillofacial surgeon with 7 years of extensive surgical experience. He graduated with honors while obtaining his bachelors degree at the University of California, Santa Barbara in 1994. In 1998, Dr. Westernoff completed his post-graduate degree, obtaining a Doctorate in Dental Medicine at the Harvard School of Dental Medicine, with Cum Laude honors. During dental school he became a US Army reservist, and was commissioned as a Captain on the USS Constitution.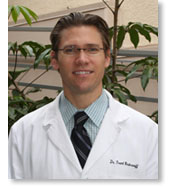 Wanting to pursue a profession in oral and maxillofacial surgery, Dr. Westernoff continued his education at the University of California, San Francisco (UCSF) residency program and the UCSF School of Medicine.  During his six years at UCSF, he completed Oral Maxillofacial Surgery training, obtained his medical degree (M.D.) and finished a year of general surgery training.  In addition to his extensive education, Dr. Westernoff was activated and promoted to a Major in the US Army where he served for three years as full time hospital staff at William Beaumont Army Medical Center, where he practiced full-scope oral and maxillofacial surgery.  He was deployed in 2005 during Operation Iraqi Freedom and served at a Combat Support Hospital in Mosul, Iraq.  Dr.  Westernoff received a Meritorious Service Medal for his outstanding service while in Iraq.

Dr. Westernoff completed board certification for both the American Board of Oral and Maxillofacial Surgery and National Dental Board of Anesthesiology, and currently holds diplomate status in both organizations.

Having completed nine years in the US Army Ready Reserve and three years active duty, Dr. Westernoff and his wife elected to move back home to Southern California, where he and his wife are raising their family and continuing their professional careers.
Member:
American Dental Association
California Dental Association
Western Los Angeles Dental Society
American Association of Oral & Maxillofacial Surgeons
California Association of Oral & Maxillofacial Surgeons
Western Society of Oral & Maxillofacial Surgeons
California Association of Dental Anesthesia
Academy of Osseointegration
The American Legion
Fellow:
American Association of Oral & Maxillofacial Surgeons
California Association of Oral & Maxillofacial Surgeons
Board Certification:
American Board of Oral and Maxillofacial Surgery
National Dental Board of Anesthesiology
Awards and Honors:
2008: Who's Who in America
2007: Army Commendation Medal, Ft. Bliss Dentac, US Army.
2005: Meritorious Unit Commendation, 228th Combat Support Hospital, Iraq, US Army.
2005: Meritorious Service Medal, 228th Combat Support Hospital, Iraq, US Army.
2005: Order of the Combat Spur, 11th U.S. Calvary Regiment, US Army.
1998: Graduated Cum Laude, Harvard School of Dental Medicine.
1998: Oral Biology Award, The American Association of Oral Biologists.
1998: Award for Excellence in Research, The Harvard Odontologic Society
1998: Hatton Award Finalist, International Association of Dental Research.
1997: American Association for Dental Research Student Research Fellowship.
1995-1998: U S Army Health Professions Scholarship Program.
1994: Graduated Honors, College of Letters and Science, University of California, Santa Barbara.
1993: Certificate of Achievement, Order of Omega Honor Society.
1993: Sigma Chi Foundation Student Scholarship Award.
1992: Dean's List Scholars Award.
1992: Golden Key National Honor Society.
1991: Dean's List Scholars Award.
1991: Alpha Lambda Delta Honor Society